Top 5 Valentine products
|
On 2020-01-05
Handmade Rose Bear - The Best Gift For The Loved Ones in 2020
100% Money Back Guarantee if She isn't Happy With Her Gift!
Real flowers are nice and all, but have you seen the Rose Bear?


This Handmade Rose Bear is
the hottest and most viral gift of 2020.
Are you ready to win boyfriend of the year??
Get her a real rose bear to cuddle with!
Available in four beautiful different colour options
Make her feel like the most special girl alive!
She'll make all her friends jealous when she flaunts her rose bear!
In stock and ready to ship now - Don't Blow It This Year Fellas! 
Preserved Rose Bear Features:
Beautiful, natural roses preserved to last 3 years

Free shipping on all rose bears

Guaranteed to make her light up when she sees it

Brilliant finish in your choice of 4 different colors

Completely unique, there truly is nothing else like it

Top secret rose preservation techniques 
The Number 1 Gift For Valentine's Day 2020:
The original rose bear supplier located here in the USA
Order now for guaranteed Valentine's Day Delivery
Same day order processing & average ship date in 2-3 days
Money back guarantee & secure checkout to shop with ease
If you want to win gift of the year, this is how! 
What Is A Preserved Rose Bear?
Real preserved roses in the high-quality finish of your choice
Roses will last 1-3 years, so your gift won't wither and die
The perfect gift - roses, AND something she can cuddle with!
The best gift you can possibly give your girl
Each rose bear is approximately 9in X 8in X 5in
A perfect anniversary or Christmas gift that looks great in your loved one's home or office. 
Frequently Asked Questions
How Long Do The Flowers Last? Forever. The flowers are made of foam and will not fade or lose their form.
How is the Rose Bear Made? Using a styrofoam mold of a bear, each Foam Colored Rose is handmade for a beautiful seamless & even look.
DIY ROMANTIC ROSE BALLOON


Features:

1.Innovative Design: This product is a DIY innovative product. It is a material package that needs to be assembled by yourself. Please contact customer service for a review.

2.Romantic Rose Ball: Each LED balloon is made of high quality latex and durable.

3.Convenient to Use: The rose has been plugged in, making it easier to pump. A big bag of balls.

4.Practical for Use: A variety of roses have a variety of meanings for you to send to friends, family, girlfriend or boyfriend.

5.Widely Applicable: These LED balloons are perfect for any type of celebration, birthday party, family party, wedding, Christmas, Halloween, Valentine's Day, and various celebrations.

Specification:

Material: Latex LED Light
Color: transparent
Battery: No battery (Batteries not included, 2 AA batteries required)
Theme: festival, party supplies

Product size:
22inch No Wrinkle Bobo Transparent Clear Balloons
Rose size: about 21*9.5cm/8.27*3.74in
Light cable: about 3m/9.84ft
Inflatable diameter: about 35cm/13.78in
Gram weight: about 385 grams
Note:
the elasticity of this balloon is very good, please feel free to inflate it. Please keep inflating until the surface is smooth like our picture, no any winkles. If there is wrinkles, that means you haven't inflated enough air, you should go on inflating.
 The step to use the ball 
1. prepare a balloon. pinch the edge of balloon
2.pull the balloon horizontally and twice, reverse direction, pull the balloon vertically and forcefully again, till every edge is done.
3. use a helium bottle or pumps to inflate through the air port.
4. at the inflation port, start at 2cm from the balloon and turn it down, turn the air port into a knot to complete.
Red Rose Pendant Necklace for girlfriend Valentine's Day gift
A lovely way to gift a rose that won't die a couple of days later but will last forever.


A perfect Valentine's Day necklace but also great to gift in any other event where you might give roses.
Handcrafted with the utmost care, our whimsical rose pendant necklace is a sweet way to keep a loving sentiment close to your heart.
Red Rose Pendant Necklace is the perfect gift for the special lady in your life whether it be a significant other, mother or friend. These necklace rose also make perfect gifts for flower girls or brides maids.Comes in a complimentary gift box.


This listing is for a hand painted red rose charm necklace. 
Necklace length: 44 Centimetres; Pendant height: 3.5 Centimetres; Pendant width: 2 Centimetres
With the hand stamped initials and the classic rose style, this makes a thoughtful and personal gift  for  wedding, bridesmaid gift, Anniversary Gift, Girlfriend, Wife, Mom, Grandmother, Bridesmaids, Couples Jewelry or Best Friend. Hand made in U.S.A
The Rose pendant has two leaves, without initials. 


Rose In Glass Dome Romantic Valentine's Day Present
This is absolutely a great gift! 
This Dazzling Rose Is A Unique Conversation Piece And Sets A Gorgeous Atmosphere. Express Appreciation To Your Loved Ones With This Thoughtful Gift.
Crafted With You And Your Loved One In Mind! Surprise Someone Special With A Gift That Makes A Loving Statement!

The base of our beautiful Roses are 24K gold plated, the petals are handcrafted from high-quality plastic. The LED wire is made of premium copper wire, flexible, waterproof, bendable and durable for daily use
Feature:

LED Strip light with glass lampshade creative romantic atmosphere for lover.
Perfect to any decorative or holiday project, suitable for party, wedding, indoor decoration, etc.
Powered by 3*AAA battery(not included),led strip light bright warm white lighting.
Made of high copper wire, flexible, waterproof, durable for daily use.
LED string is made with a fine bendable copper wire  that create any shape you want
Express your love with the one of a kind Galaxy Rose. There's no better way to say I Love You than with a rose, the ultimate sign of love universally! The Galaxy Rose is perfect for Anniversaries, Weddings, Birthdays, or any occasion that warrants such a unique and precious gift! 
Decoration, Unique Thoughtful Gift: Anniversary, Birthday, Holiday, Celebration, Just To Show Love & Appreciation 
Light Color: Warm White
Switch: ON/OFF
Powered By: 3 AAA Battery (not included)
Product Size: 8.7 x 4.5inch (22 x 11.4cm)
Romantic Galaxy Rose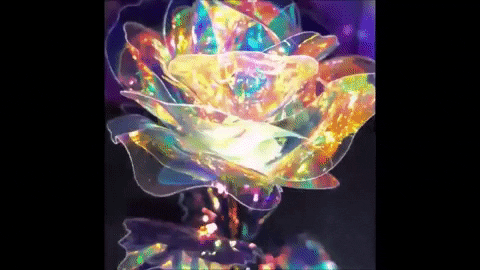 Show your special someone you love them to the ends of the galaxy with this vibrant, Galaxy Rose! It arrives beautifully packaged and ready to go! Each lovely rose is delicately handmade of an iridescent rose and leaves designed to last forever.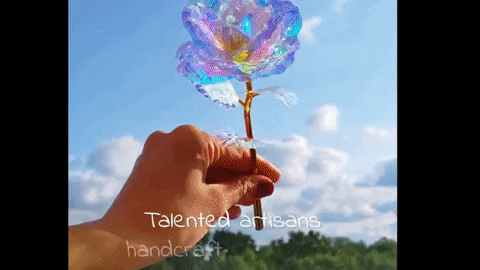 This breathtaking rose is designed to last for eternity. Handcrafted by professionals with exquisite precision, the rose is the best gift for any occasion or holiday for a loved one, a partner, a friend or someone very close to your heart, to show them, how much you care.
Express your love with the one of a kind Galaxy Rose. There's no better way to say I Love You than with a rose, the ultimate sign of love universally! The Galaxy Rose is perfect for Anniversaries, Weddings, Birthdays, or any occasion that warrants such a unique and precious gift! 
This Romantic Galaxy Rose are made of plastic, durable and sturdy. It is plastic that makes petals on the flower display different colors with different lights or angles and makes stem and love shaped base look like golden color .Each Galaxy Rose condenses the efforts of the staff in every production process. We hope that you can enjoy the colorful luster of this simulated flower at different angles or lights. This plastic artificial rose will not wither and fade like actual flowers, it has always been a symbol of beauty, love and appreciation, it can help you show your eternal love for her or him, let them know that your relationship will never follow time to dissipate
Specification:
Material: Plastic
Flower Head Size: approx. 5cm x8cm
Length: 23cm (9inch)
Sharp: Rose